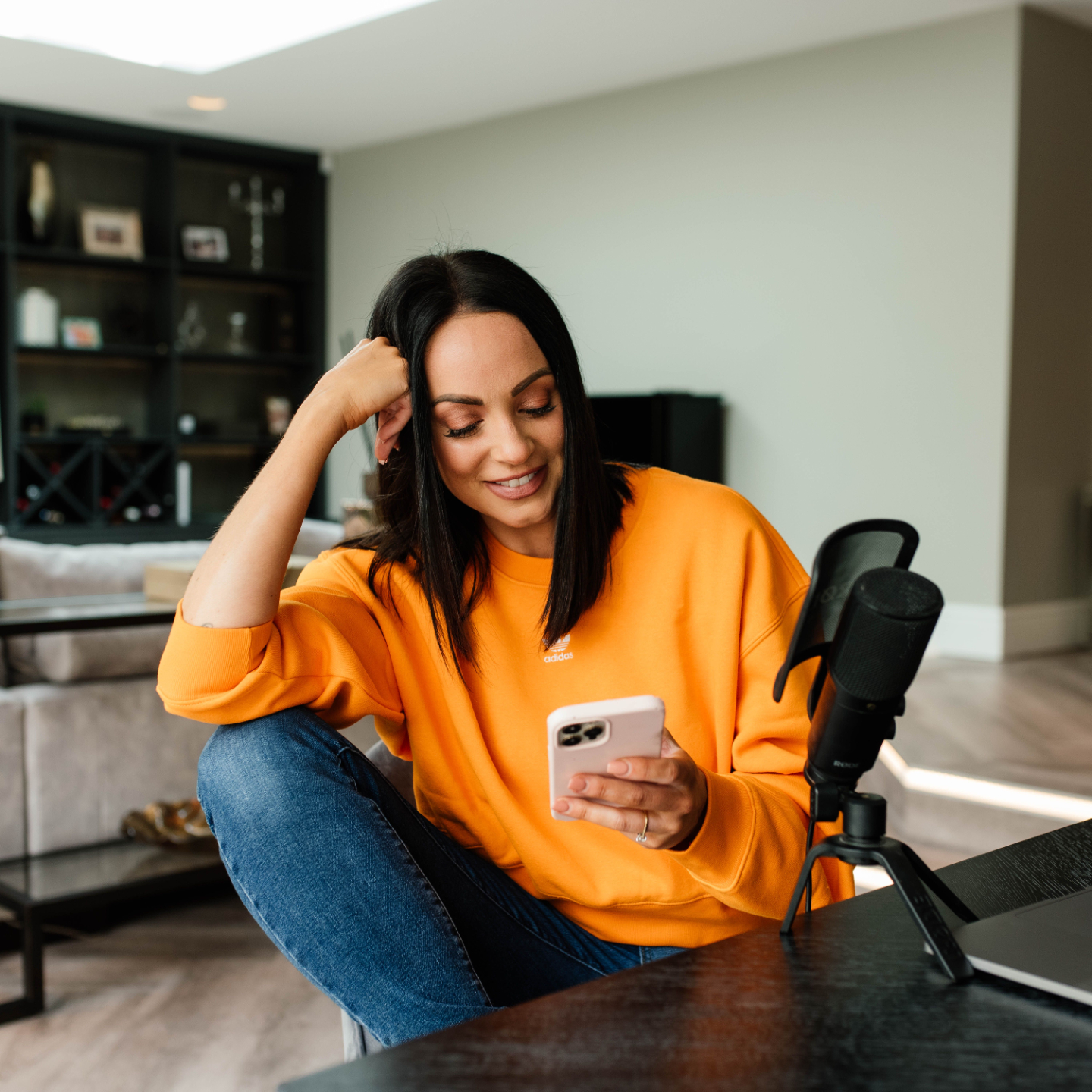 There's

no fluff

or unnecessary steps.
The ultimate

step by step

guide that takes you from the "ideas' phase right through to launch, promotion and monetisation. This is really simple and to the point and is designed to have your podcast up and running

within 30 days.


This is the exact method I used to launch my podcast and hit the top charts in the my first 30 days. You can tick off each step as you go along to make sure you don't leave anything out!
I'M READY TO LAUNCH MY PODCAST!
This is perfect
for you if:
 

You have NO IDEA where to start

You've wanted to do this for ages for self doubt keeps taking you out

You're a total technophobe and anything tech related freaks you out. (like me)

You don't have hundreds to invest In a fancy tech set up right now.

You don't have a big audience and worry if anyone will listen.

You're worried you've missed the podcasting boat because you think EVERYONE is doing it now

You're thinking 'I'm already overwhelmed. how the hell will I even have time to fit this in?

 
My Happy Clients
It's not just me getting

results, my clients are too!
Clawgasmic
"Our podcast has just hit 1000 downloads n I'm literally loving it"
Higher Self Babe
"I've spent 10's of thousands on mentors who don't have anywhere near the care you have for your clients"
Alyx Steele
"It's been amazing! Super helpful and really simple to follow too"
Imagine if....
You got to interview and network with your dream high-profile guests. 

You check your bank and see that you've just made money from your podcast while you've been sunning it up on the beach.

You're asked to speak on stages alongside industry leaders you've looked up to for years because you're an expert in your field.

You get DAILY posts from random people on insta saying your latest podcast episode changed their life!

Your audience is growing every single day with your ideal clients who can't wait to work with you.

You're hitting your 5 year goals 3 years early because your business has gone WILD!
Hey,

I'm Carly 
Carly was a professional dancer performing in prestigious West End Musicals and arenas around the world.

At the height of her success her career was cut short when an injury meant she could no longer dance and was forced to completely start again.

 
She believes this injury is the best thing to have happened to her as it threw her in the direction of entrepreneurship and her true purpose.
Over the last 9 years she has built 2 six figure business's and reached the top 1% of leaders in the social marketing industry worldwide.  She has coached hundreds of others to build their own online business and has a relentless passion for helping women reach places in their own personal and business growth that they never even thought possible.
She is the host of the female entrepreneur podcast 'Made For More'.  A motivational speaker and trainer. And the proudest mum to her 2 kids Frankie and Margot.

 
Running her businesses around her 2 kids under the age of 3 she has figured out how to work smart and is obsessed with helping people earn more while working less.

 
You can usually find her eating coco pops and watching Selling Sunset in the bath! (Usually not at the same time)
Ok, Let's do this!
WHAT'S INSIDE?
Get access now and learn how to launch your podcast in the simplest and cheapest way possible.

WITHOUT

 wasting time or money on

unnecessary

 tech.



9 short and sharp modules that are simple and instantly actionable.
Designed to take you from idea right through the launch phase. 
And the best part? You can get it for only £227!
Get access to your downloadable workbook, set the date and find your purpose.
Figure out WHO your audience is, WHAT your niche is and HOW to find them.
Create your unique strategy that makes you truly stand out from the crowd in your niche.
Create 'binge worthy' content that instantly connects your audience.
Learn to record, edit and publish your episodes simply across all platforms.
 L
earn how to monetise  effectively without feeling 'salesy

'
Learn how to instantly hit the top charts and build an army of loyal subscribers
Learn how to launch stress free and have your audience promoting for you.
 Grow your podcast long after launch and take your brand to the next level.
You are what you DO, not what you say you'll do.
You're more capable than you think you are. But if you're anything like me, you need help to take your super power to the next level. You just want someone to tell you what works.

It took me 2 years and being locked in my house in a global pandemic to finally start a podcast because I kept overthinking it. At the time lots of women I looked up to were starting podcasts and I thought 'why on earth would anyone listen to me when they could listen to them?'. At the time I was a sleep deprived mum of 1 and running 2 business's in the 1 hour a day when my little boy would sleep and had no idea where I would find the time to fit something else in when I was already so busy as it was. I thought it wold take hours to write, record and edit the episodes and it was totally intimidating.